PARKING FOR CLASSES & PERFORMANCES AT THE NACC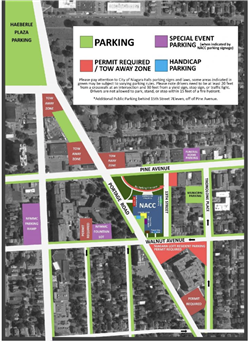 Free parking is available all around the NACC building.
RED DOORS

The PUBLIC ENTRANCE to the BUILDING IS LOCATED ON THE PORTAGE ROAD SIDE.
ALL OTHER DOORS REQUIRE KEY ACCESS.
PARKING LOCATIONS
NACC Loading Dock / Handicap Parking Lot
Pine Ave : (Both Sides)
Portage Road: (West Side) between signs
Portage Road -Haeberle Plaza
Walnut Ave : (North Side)
Additional Free Parking located in the following lots
628 Tronolone Place, Niagara Falls, NY 14301
750 Haeberle Ave, Niagara Falls, NY 14301
Behind 15th Street 7Eleven
Motor coaches, school buses, and handicap vehicles may drop off on the circle driveway on Pine Ave.
The Niagara Arts and Cultural Center is not responsible for parking violations