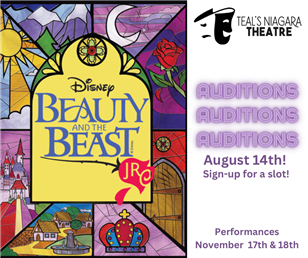 The Audition Process
Rehearsals are planned for Sundays. We will work them around the Bills games as much as possible. They will meet either starting at 11:30am or 12:30pm most weeks. Additional rehearsals may be called for leads and will be worked out at a mutually agreeable time with the director or choreographer.
A full schedule will be available before auditions.
Read through this page COMPLETELY.
Practice the attached songs & dialogue that corresponds with your group of characters. All of the materials can be accessed in the Google drive below.
Click here ⬇️
Beauty & The Beast Audition Materials
Click The Link Below To Schedule Your Audition ⬇️
Beauty & The Beast Audition Signups
You may choose to audition for two of the 6 character groups A, B, C, D, E, or F. Auditioning for a group does not guarantee that you will be chosen for that group.
Everyone will receive a part in the show. As a reminder, the participation fee is $450 which includes the costume fee. In order to audition, you must have paid (or pay at the audition), your annual registration fee of $35 per student (max $60 per family). This fee is non-refundable should you choose not to enroll in the show or other classes with TNT this year.
We are not a 501-C3 (ie., a not for profit), and we do not get any grant money to produce our shows. The money you pay to participate is the only funding we use for our shows. However, we never want money to be a reason someone can't participate and we will make every effort to offer fundraising opportunities and payment plans if requested. Also, some scholarship money may be available through The NACC where we are in residence. You can contact Kelly@thenacc.org to inquire about this.
All NEW TNT students are required to audition. If a students does not want to be considered for a major role in the musical, then he or she may sing "Happy Birthday" for their audition. Any returning TNT student who wishes for an ensemble part does not need to audition.
Disney's "Beauty and the Beast Jr."
The classic story tells of Belle, a young woman in a provincial town, and the Beast, who is really a young prince trapped under the spell of an enchantress. If the Beast can learn to love and be loved, the curse will end and he will be transformed to his former self. But time is running out. If the Beast does not learn his lesson soon, he and his household will be doomed for all eternity.
Group A Characters (girls only):
You will be considered for the following roles:
Belle
Required singing: "Home" (p.35 measure 6-76) Required Monologue: #1
Group B Characters (boys or girls):
You will be considered for the following roles:
Lumiere & Cogsworth & Chip
Required singing: "Be Our Guest" (p.57 measure 12-43) sing all parts and read dialogue at the start of the song Required Monologue (pick one): #5, #6 or #11
Group C Characters (girls only):
You will be considered for the following roles:
Mrs. Potts & Babette & Madame de la Grand Bouche & Silly Girls
Required singing is: "Beauty and the Beast" (p.95 measure 26-52) "Human Again" (p.85 measure 50-82) sing all parts
Required Monologue (pick one): #7, #8, #9 or #10
Group D Characters (Gaston/boy only) (Lefou/boy or girl):
You will be considered for the following roles:
Gaston & Lefou
Required singing is: "Gaston" (p.44 measure 104-171) sing all parts Required Monologue (pick one): #2 or #3
Group E Characters (boy only):
You will be considered for the following roles:
Prince/Beast & Maurice
Required singing is: "Something There" (p.76 measure 28-36) Required Monologue (pick one): #4 or #12
Group F Characters (boys or girls):
You will be considered for the following roles: Narrator & Ensemble Required singing is: "Mob Song" (p.102 measure 19-31) sing all parts
Click The Link Below To Schedule Your Audition ⬇️